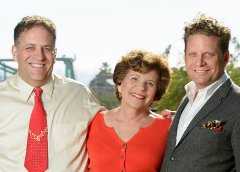 LINDA
I earned my Real Estate license in 1973. In 1984 I obtained my Broker's license. In 1995 I joined Vanguard Realtors as Co-Owner Broker/Manager. I have an equal number of years as a business manager. I bring expertise and knowledge to each real estate transaction. In 1988 I earned an MBA from Pepperdine University. In 2007 I became the sole owner of Vanguard Realtors. I love working with the incredible agents who work at Vanguard Realtors.
Santa Cruz is a wonderful place to live. I love working with my many referrals as well as managing the outstanding group of agents affiliated with Vanguard Realtors. As Broker of Record I get to oversee the many complex real estate transactions that are generated by the skilled team here at Vanguard.
I developed a mentor program for new agents. It enriches our team of professionals here at Vanguard. It is a one of a kind program in Santa Cruz. I believe that professionalism is the key to top level performance for our many satisfied clients.
Christopher
Peripatetic. That really is the best word to describe the path I've taken back to Santa Cruz, where I'm ready, willing and eager to help you with your real estate needs. Having grown up around it -- my favorite game as a small boy was playing Multiple Listing Service with Mom's old MLS index cards -- I recently took the plunge and joined my mother and brother in "the family business." ...